The 22nd Annual Raleigh Convention Boat Show 2014 is Feb. 6-9 at the Raleigh Convention Center at 500 South Salisbury St., Raleigh, NC. The 4 day event is the largest boat show in the state of North Carolina with 40 exhibitors and more than 150,000 sq ft of boats on display. All types of boats will be on display and for sale:Fresh Water Boats, Salt Water Boats, Cabin, Deck, Fishing boats, Ski Boats, Wakeboats, Pontoons, Pleasure boats and Cruisers. All types and brands of boats to see. Financing and insurance also available. Special financing and off season pricing only for the Boat Show! Get a $2 coupon off admission price here.
Hours are:
Thursday: 11:00 a.m. – 8:00 p.m.
Friday: 11:00 a.m. – 8:00 p.m.
Saturday: 10:00 a.m. – 8:00 p.m.
Sunday: 11:00 a.m. – 5:00 p.m.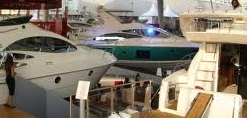 22nd Annual Raleigh Convention Boat Show 2014 Feb. 6-9