301 Endless Yard Sale 2015 Dates For This June
The third annual and much-anticipated " 301 Endless Yard Sale" will take place again this summer in eastern North Carolina the weekend of June 19-20, 2015. Several communities in multiple counties along US 301 will participate. Shops, churches, schools, groups, individual, families and more will be selling, antiques, collectibles and more set up along Highway 301 between Roanoke Rapid to Dunn. The 301 Endless Yard Sale will be over 100 miles beginning in the Johnson County towns of Smithfield, Selma, Kenly, and Benson, and continuing in Wilson County, Halifax County and Harnett Counties.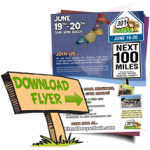 Each year more and more churches, groups, families, farms, and businesses join in on the sale. It keeps getting bigger and better every June. This event last year was a huge success  bringing in lots of yard sale shoppers for all over eastern United States.
Some sellers will be located along the highway in established visitor sites like Riverside Mill in Weldon, the Tobacco Farm Life Museum in Kenly,and TWM Antiques in Selma. Also families, churches and schools along the route will have vendor setups. If you like yard sales, antiques and travel you will love this unique US 301 Endless Yard Sale! Remember the dates are June 19-20, 2015.
This event is really a lot of fun. Last year there were tents along Highway 301 for miles in the Johnson County and Wilson County areas. Cars were parked all along the highway with people browsing and shopping at each area there were tents set up. It was so much fun to watch all the people as well as do some shopping!
6/19/15 The 301 Endless Yard Sale started today. Here are some pictures form today. People from all over the US are riding along 301 in North Carolina making stops at the endless tents in parking lots, driveways, churches, etc! So much fun.
Take a look at last years 301 Endless Yard Sale…
301 Endless Yard Sale 2015 Dates