Talented Singer and Performer Audra McDonald at Carolina Performing Arts
Audra McDonald performs on Feb. 6, 2015 at the Carolina Performing Arts. She is a Tony Award winner and Grammy Award winner for her talent as a Broadway performer and television actress. At her show on Feb. 6 at the Carolina Performing Arts she will sing standard songs from the American Songbook. The show starts at 8:00 PM is venue is located at Memorial Hall 114 at E. Cameron Ave. in Chapel Hill, North Carolina. Tickets are on sale now. Visit Carolina Performing Arts for more details and to buy tickets.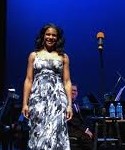 Audra McDonald was in the shows Private Practice and Law and Order: Special Victims Unit. She also played The Reverend Mother in the live television production of the Sound of Music in 2014. She is a talents singer with a beautiful voice and her performance is sure to be a delight.
Audra McDonald singing Maybe This Time…
Audra McDonald Performs at Carolina Performing Arts