Azalea Festival Wilmington NC 2015
The Azalea Festival in Wilmington NC  is April 8-12, 2015. Celebrate the arrival of spring at the North Carolina Azalea Festival. For more than 60 years, the folks of Southeastern North Carolina have been throwing the best party in the South and you're invited! There's something for every one of all ages among the  community's array of artwork, gardens, history and culture. Over 200,000 people are expected  to attend the popular two-day spring festival in Wilmington this year. Last year approximately 100,000 lined the streets to watch the Festival Parade and  the traditional arrival of Queen Azalea.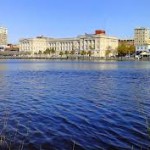 A parade, parties, art, tea party for the kids, coin show, street fair, circus, fireworks, Cole Bros Circus, music and concerts and so much more this year at the North Carolina Azalea Festival in beautiful Wilmington on the Cape Fear River. Alan Jackson concert takes place April 9, 2015.
The fun starts April 8 and last through Sunday April 12, 2015.
For more information, tickets and complete list of events see NC Azalea Festival
Azalea Festival Wilmington NC 2015