Beech Mountain Land of Oz Fall Event 2017
Beech Mountain Land of Oz theme park's annual Autumn at Oz celebration takes place this year in September. This dates for this year's three-day festival is September 8-10, 2017. This is a three-day weekend event lasting from Friday through Sunday. It will be the 24th annual Autumn at Oz festival. The festival has a lot of fun activities, face painting, photos with the characters, props and souvenirs, food, and drinks. People travel from all over to come to this popular festival in the North Carolina mountains. The festival started out as a small reunion of the theme park's former employees. Now it is has grown into a popular weekend festival. Children and adults as well will all enjoy this fun event that celebrates the Wizard of Oz.
Autumn at Oz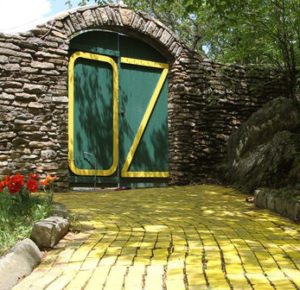 At Autumn of Oz visitors can travel thru the twister that took Dorothy to OZ, walk along the Yellow Brick Road, explore Oz and meet many of the beloved characters such as the Tin Man, Dorothy, the Cowardly Lion, Scarecrow, Professor Marvel, Auntie Em, Uncle Henry, Glinda the Good Witch, the Wizard of Oz and even The Wicked Witch of the West with her Winkie guards and flying monkeys!
Tickets go on sale July 24th, 2017 and cost $40 for both adults and children. Advance tickets are recommended due to the popularity of the festival. It usually sells-out every year. Buy tickets at their website Land Of Oz/Autumn at Oz, but act fast because tickets sell out fast!
Beech Mountain Land of Oz History
Land of Oz in Beech Mountain was an operational theme park for 10 years from 1970-1980. Hard times hit the park and it closed. Then vandalism and destruction took its toll. In 1990 the area was taken over by Emerald Mountain development. With renovations and hard work now it has become what it is today. Emerald Mountain Properties have private parties at Oz, rentals, sales, Land of Oz, Oz souvenirs, Autumn At Oz Festival, bike and hiking trails and 440 acres to discover and explore.
See all fun you can have at Beech Mountains Land of Oz at Autumn at OZ festival…
Location and Map to the Land of Oz at Beech Mountain, NC
Beech Mountain Land of Oz