Bentonville Battlefield 150th Anniversary Reenactment
The Bentonville Battlefield 150th Anniversary reenactment takes place soon. The last significant Confederate army offensive battle of the Civil War took place at the Battle of Bentonville over three days March 19-21, 1865. It was the largest battle during the Civil War ever fought in North Carolina. Every five years the Battle of Bentonville is reenacted. This year is the 150th anniversary of the battle and special reenactment events are taking place. Civil War buffs and history buffs will love this events.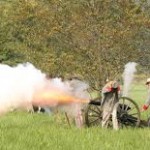 Bentonville Battlefield is a National Historic Landmark located in Johnston County North Carolina. This year's reenactment events on March 21-22, 2015 include two battle reenactments-one Saturday and one Sunday. Tickets are required for the battle reenactments but other events and exhibits are open to the public and free of charge. Walk through a Confederate encampments and a Federal encampment, listen to speakers, walk around Civil War time cooking exhibits, clothing, uniform and artifact and replica displays. Visit the Visitors Center, the Harper House, and a fiber optic map exhibit with narration and battle sounds plus many others.  This event is North Carolina's largest Civil War reenactment and this year's 150th anniversary events will make it even bigger and more exciting and educational.
Bentonville Battlefield is open all year round Tuesdays through Saturdays 9:00am – 5:00pm. It is located at  5466 Harper House Road, Four Oaks, NC. FREE PARKING. The Bentonville Volunteer Fire Department will be selling food and drinks for the 150th anniversary event. For more information or for tickets see Friends of Bentonville Battlefield
Bentonville Battlefield 150th Anniversary Reenactment