Cape Hatteras In Top 10 Beaches Again
Cape Hatteras in the top 10 beaches again. Cape Hatteras Beaches moves up to the #5 position on Dr. Beach's Top 10 Beaches for 2015. Last year Cape Hatteras was #6 on the list. Hatteras Island on the Outer Banks is a beautiful island that is about 42 miles long and at its widest parts only about 1 mile wide. The beaches of Cape Hatteras are clean with white sand, wide beaches and in some places isolated. The Cape Hatteras National Seashore stretches for miles along the North Carolina coast. Cape Hatteras beaches is just one of the many attractions that make the Outer Banks a popular tourist attraction. The Outer Banks is known world-wide for its beauty, tourist attractions, fishing and fabulous watersports opportunities.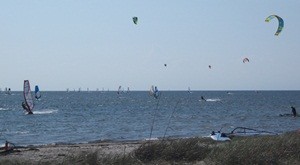 Cape Hatteras is also known as "the blue marlin capital of the world" and is a great place to fish. Several marinas are located at the Outer Banks. Charter boats are available for marlin, dolphin and red drum fishing. Fishing is big business at the Outer Banks. Surf fishing, pier fishing and charter boat fishing trips in the sound, off shore and gulf stream are a fun way to spend a few days at the Outer Banks.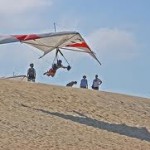 Due to an almost always blowing wind Cape Hatteras is popular destination for those that enjoy the sport of windsurfing and kite boarding. Surfing is another popular activity. people from around the world go to the Outer Banks to surf the waves, kiteboard and windsurf. Hang gliding is also popular at Jockeys Ridge.
Cape Hatteras beaches are a great place to soak in the sun or talk a long walk and look for seashells. Catch the sunrise over the Atlantic Ocean or watch the sunset over the Pamlico Sound from a quiet dune on the Cape Hatteras National Seashore.
There is a reason Cape Hatteras beaches are in Dr. Beach's Top 10 Beaches list. Just one trip to the Outer Banks and Cape Hatteras and you 'll see for yourself!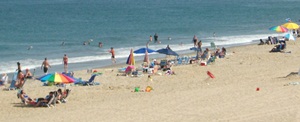 Cape Hatteras Beaches In Top 10 Beaches Again