Celebrate July 4th in Castalia With Fireworks Fun Food and Music
The small town of Castalia in Nash County is known for putting on a great July 4th celebration. Come enjoy Independence Day and enjoy the festivities including a parade, music, car show, food, fun and a fantastic fireworks celebration at dark.The Castalia Independence Day Celebration last all day Saturday July 4, 2015. It kicks off at 9:00am and will continue all day with different activities then ends with a spectacular fireworks display at 9:15pm.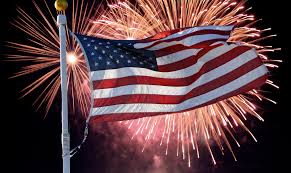 There is a car show from 9:00am-1:00pm put on by the Castalia Volunteer Fire Department and the Franklin County Cam Twisters Club. Classes of cars include antique/original. street rod, 4X4 trucks, pick up trucks, rat rods and race prepared. From 11:00am until closing there will be crafts and food vendors. At Small Town USA from 12:00-1:00pm there ill be an Honorary Veteran gathering to honor the area veterans. The Independence Day Parade starts at 2:00pm. The mayor of Castalia will welcome all at 3:30pm followed by The Pledge of Allegiance.
Music groups will sing starting at 3;45pm including the gospel group Ricky Simmons, contemporary gospel by Veil Torn Life, and other groups singing a variety of music (Faye Vick, Kevin Davis, Ronnie Ezzell and TAZZ). The all day celebration comes to an exciting end when the fireworks go off at 9:15 just after darkness.
Come join in on the fun in Castalia to celebrate Independence Day! Bring your chairs, blankets, friends, family and kids and enjoy a whole day of fun, food, music and a patriotic parade that makes us all proud to call the USA home!
See fireworks from a few years ago at Castalia…
Celebrate July 4th In Castalia All Day