The Christmas Carousel Holiday Gift Market in Raleigh
The Christmas Carousel Holiday Gift Market is the weekend after Thanksgiving November 28-30, 2014 at the Jim Graham Building at the NC State Fairgrounds in Raleigh. This is the perfect place to do some holiday shopping with about 250 vendors at the show this year. It is a 3 day event starting on Black Friday and runs through Sunday.
Find out the 2015 dates for this event here!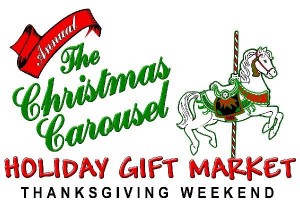 Just some of the vendors are: Amazing Handmade Dresses, A Stroke of Paint, Bags Etc., Jenni K Jewelry, Be Dazzled, Bone-A-Fido, Bows & Sew On, Bridgegate Kitchen, Childtime Creations, Country Home Crafts, Flowers by Joyce, Hair Doozy, Kerr Lake Candles, Personalize Me, and so many more. There will be candles, food items and mixes, hair accessories, wood puzzles, jewelry, aprons, toys, art, garden items, silk flowers, wreaths, pottery, wine, flags and more. This is the place to find those unique gifts. It is a favorite holiday shopping event in North Carolina for many.
Get the girls together and head to Raleigh the weekend after Thanksgiving to do some shopping. This is always a popular annual holiday event. Enjoy a day of shopping for those one of a kind gifts. So many different types of gift all under one roof. You will be sure to please all those people you buy for with gifts bought at the 27th annual Christmas Carousel.
For a complete list of the vendors and to see the floor plan and find out more information (or get advanced tickets) go to The Christmas Carousel. Or visit their Facebook page.
Santa will be there too for the kids and for pictures with the kids!
FREE Parking!
Hours for The Christmas Carousel Holiday Gift Market 2014:
Friday        November 28        9am – 7pm
Saturday   November 29    9am – 6pm
Sunday      November 30     11am – 5pm
The Christmas Carousel Holiday Gift Market