Dan Finch Pottery Open House 2016
Dan Finch Pottery Open House is this Sunday November 13, 2016.  It starts at 10:00 am and last all afternoon untill 5:00 pm. The yearly open house is a popular event. Dan opens his pottery workshops for all to visit and enjoy.  And there is free admission! This year he will have numerous potters at his open house event and live several demonstrations.  It's a fun-filled event with shopping, pottery demonstrations, music, fun and food. There are pottery demonstrations, live music, shopping and food. Even kid's activities like face painting and Santa's Workshop.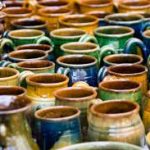 It's a great place to buy functional pottery for the home or kitchen as well as pottery for home or garden decor. More shopping items includes jewelry, wall hangings and sculpture.  This year there will be music by the Southern Star Band and a special appearance by Rebecca Bryant, Singing Cowgirl. Free admission and parking!
Dan Finch is a well-known potter that works in stoneware, porcelain, wood-fired, salt-glazed, and raku pottery. Finch Pottery and Nursery is located near Bailey, NC. He was Director of the North Carolina Pottery Center and a former President of the Village of Yesteryear at the North Carolina State Fair. He also runs a pottery school at his studio. He also has Finch Homes for Bluebirds and has a blueberry farm.
The Dan Finch Pottery Open House takes place in Bailey, NC and it's a great way to spend a cold November Sunday afternoon sipping hot chocolate and shopping with family and friends for those unique holiday gifts while exploring a famous potters workshop.
Location and Map to Dan Finch Pottery in Bailey, NC