Kids Will Love Discover The Dinosaurs Exhibit at the Crown Complex
Discover the Dinosaurs is at the Crown Complex in Fayetteville at the Crown Expo Center this weekend for 3 days starting Friday January 23, 2015.  Kids will love this show. Learn in a fun way all about dinosaurs at the exhibit that has more than "40 moving and replica museum quality dinosaurs that gives you the opportunity to actually get close and touch the dinosaurs". Even the adults will enjoy the moving dinosaurs and other exhibits about pre-historic life.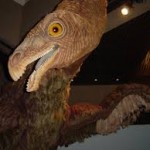 The Discover the Dinosaurs exhibit includes the following: Dinosaur Exhibit, Dino Dig, Dino Den, Dino Theater, Dino Coloring Station and Scavenger Hunt. For an addition cost there is Unlimited Dinosaurs Rides, Mini Golf, Inflatables, Gem and Fossil Mining and Face Painting.
Discover the Dinosaurs Exhibit Hours:
Friday January 23 12:00 PM – 9:00 PM
Saturday January 24 10:00 AM – 8:00 PM
Sunday January 25 10:00 AM – 7:00 PM
Admission Prices:
Adults: $21.00 (13yrs & older)
Children:$25.00 (2-12yrs) EXHIBIT PLUS
Children:$19.00 (2-12yrs) EXHIBIT ONLY
Seniors: $19.00 (65+)
Children under 2 yrs get in free
The Crown Expo Center is located at 1960 Coliseum Drive in Fayetteville, NC.

Discover the Dinosaurs is at the Crown Complex in Fayetteville This Weekend