Discover The Dinosaurs and Discover The Ice Age
Discover The Dinosaurs will be March 6-8, 2015 at the Graham Building at the North Carolina State Fairgrounds in Raleigh, North Carolina. See "40 moving and replica museum quality Dinosaurs" at this popular events. Children as well as the adults will love this special three-day event. "Explore the mystery of pre-historic life in an environment of learning, discovery, and fun."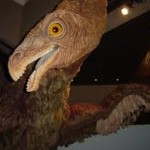 "Discover the Dinosaurs is a unique hands on exhibit that consists of up to 40 moving and replica museum quality dinosaurs that gives you the opportunity to actually get close and touch the dinosaurs!"  exhibit includes moving dinosaurs with sound, push a button and make the dinosaur come to life with the interactive exhibit: museum quality dinosaurs you can touch and feel; realistic setting that represents the time the dinosaur lived using special lighting, sound effects, animatronics, and fog. Travel back to pre-historic times at Discover The Dinosaurs.
Also see Discover The Ice Age with the exhibit of dozens of Ice Age mammals in their natural environment. An interactive exhibit by the push of a button that makes them come alive. See the Ice Age exhibit with  sight, sound, and motion using special lighting, sound effects, and animatronics.
Additional activities at  Discover The Dinosaurs include Dinosaur Exhibit, Dino Dig, Dino Den, Dino Theater, Dino Coloring Station, Scavenger Hunt, Dinosaurs Rides, Mini Golf, and Inflatables for the kids. (May require an additional fee).
For more information and to buy Discover The Dinosaurs ticket see Discover The Dinosaurs Raleigh.
Discover The Dinosaurs Hours
March 6, 2015    Friday 12:00-9:00
March 7, 2015    Saturday 10:00-8:00
March 8, 2015    Sunday 10:00-7:00
Discover The Dinosaurs and Discover The Ace Age is located at the Graham Building at the
North Carolina State Fairgrounds at 1025 Blue Ridge Blvd. in Raleigh.
NC State Fairgrounds Map
[wpgmza id="1″]
Discover The Dinosaurs Raleigh 2015