Drownings At Outer Banks
There have been two drownings at Outer Banks this week. A man died at the Outer Banks Thursday July 21 while swimming in the surf at Ocracoke Island. The 67-year-old man was apparently swimming and got caught in a rip tide. A 911 call was made about 3:00 PM Thursday afternoon with the report of a man being missing near Ramp 70. Emergency responders rushed to the scene. The body of the missing swimmer was found close to the area where he disappeared. An autopsy will be performed at the  Medical Examiner's Office in Greenville, NC . The man's identity has not been made public at this time. Officials report the man was not from Ocracoke Island but a visitor to the island.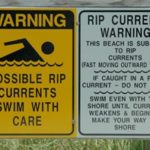 A second drowning  occurred at the Outer Banks the very next day. This happened on Hatteras Island in the Frisco area.  A 71-year-old man was swimming in the surf near Sailfish Drive in Frisco. An emergency call went out about 3:30 PM. The man apparently was swimming off shore and was caught in a rip tide. Multiple agencies responded and attempted to resuscitate the man but were unable to revive him. The man has not been identified at this time.
What is a rip tide (also rip current)?
A rip tide is a strong, localized, and narrow current of water caused by the tidal flow of ocean water. A rip tide is strongest near the surface. The current moves away from the shore out into the ocean. Rip tides can be hazardous to swimmers. A swimmer caught in a rip tide can be quickly carried out away from shore. Do not try to fight the current and try to swim back into shore. Do not panic. Instead swim parallel to the shore in either direction to get out of the narrow band of the rip tide.When a swimmer gets out of the rip tide they can swim back to shore to safety.