Elizabethan Gardens Winter Lights a Magical Display at the Outer Banks on Roanoke Island
The Elizabethan Gardens at Fort Raleigh National Historic Site on Roanoke Island at the North Carolina Outer Banks presents Elizabethan Gardens Winter Lights – A Million Lights of Holiday Spectacle!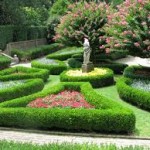 Winter Lights will be December 2, 2014 – January 3, 2015. The holiday lights show feature "lights, floral delights, holiday sights and other events" at The Elizabethan Gardens. Winter Lights will be Tuesdays thru Saturdays from 6:00pm-9:00pm. 
Visit Winter Lights and walk along holiday decorated garden paths and enjoy the magic of the holiday season with "lights, sights and sounds transforming The Elizabethan Gardens into an illuminated winter wonderland. The radiant glow of the gardens, traditional holiday decor and fantastical displays are a true spectacle to behold. Festive trees grace the Gatehouse and Odom Hall and a crackling open-air fire warms the Great Lawn". The seasonal gift shop and plant sale will also be ongoing during the event.
Winter Lights Admission Cost: Adults $10, School Age (ages 6-17) $8, Preschool (5 and under) $5.
This is an outdoor event and subject to change due to weather conditions.
See Winter Lights at the Elizabethan Gardens…
Elizabethan Gardens Winter Lights Display at the Outer Banks