Fall Foliage Predictions For 2015!
Predictions are in for this year's fall foliage 2015. Kathy Mathews is a Western North Carolina associate professor of biology and her annual prediction for this season is out. She predicts for this year the fall foliage show to be full of color as a result of the very dry summer. She predicts the fall color show this year may be the best the North Carolina mountains has had in years. Rain in late spring kept the trees healthy but the summer months have been unusually dry. Dry conditions result in more red colors Mathews stated in her prediction. More red and orange colors make the fall foliage especially pretty along with the yellows and golds.
The key to the start of the fall colors is when the first frost occurs. Peak colors happened just days after the first frost in any given elevation. Lowest temperatures/frost occur in the highest elevations first and then progresses down to the lower elevations. So peak color happens in the highest elevations (over 4000ft) first and then work down to the lower elevations. Color changes usually start in late September and continue into early November depending on the elevation and the weather.In North Carolina there is usually a 4-6 weeks window of opportunity to few the fall colors due to the varied elevations in the NC mountains.
The  fall foliage predictions, forecast and fall colors weekly reports by Travel NC will be coming in September of 2015 for this year's fall foliage season in the North Carolina mountains. Check back often!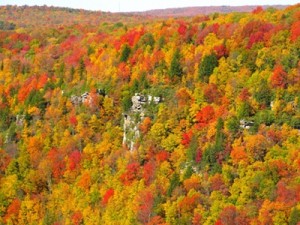 Fall Foliage 2015 Prediction