Ring in the New Year at First Night Raleigh 2015
Raleigh will again celebrate the New Year with First Night Raleigh 2015 in downtown Raleigh on December 31, 2014. The theme for this years celebration is Out of this World! presented by Artsplosure. Watch the lowering of the Acorn at midnight after enjoying all the fun activities that will be at First Night Raleigh 2015.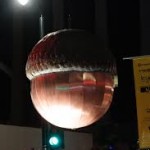 Buy an admission pass that  covers access to all the  performance and all the activities throughout the entire day. There will be over 100 performances in over three dozen locations across 20 blocks of downtown Raleigh.
First Night Raleigh 2015 starts at 2:00pm on 12/31/2014 with the Children's Celebration at NC Museum of History, NC Museum of Natural Sciences and outdoors on the Bicentennial Plaza. The kids can ring in the New Year with the Early Countdown at 7:00pm just for them. Performances at the Main Stage will start earlier this year at 4:00pm. And later into the night, downtown Raleigh will come to life with performances in over 20 blocks of downtown Raleigh.
First Night Raleigh 2015 Tickets
Music, performances, fun, food, children's activities and so much more will make for an exciting way to bring in the New Year in North Carolina. Tickets are on sale now. For more information, tickets or a complete list of activities see First Night Raleigh 2015.
First Night Raleigh 2015 Parking
There are several parking decks and surface lots in the downtown area of Raleigh. City-owned lots and decks will be open all day and night and are pay to park. State government visitor lots are available at an hourly rate during the day, and other state-owned surface lots are available for free parking after 6:00 PM. There will also be a tram service to make getting to and from different locations over the 20 blocks of First Night Raleigh easy.
Take a look at First Night Raleigh 2015…