Annual National Gingerbread House Competition at Grove Park Inn Asheville
The National Gingerbread House Competition display for this holiday season takes place at the Omni Grove Park Inn in Asheville from November 18, 2015 through January 3, 2016. Judging for the annual competition takes place on November 16, 2015 and the awards ceremony is open and free to the public. This year is the 23rd Annual National Gingerbread House Competition. The gingerbread houses from this year's competition will be placed on display to the general public Sunday through Thursday 9:00am till 9:00pm. They are on display for resort guest at anytime.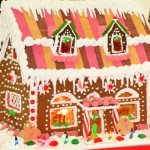 The bakers must make their elaborate gingerbread houses all edible except for the base. Every part of the gingerbread house must be able to be eaten. Bakers from all over the United States enter the competition. Some drive or fly from many hours away with their gingerbread houses, hoping their houses survive the trip with little or no damage.
It is so much fun to stroll through the rows of magical gingerbread houses baked and decorated by bakers young and old from all over the United States. This is a favorite holiday event for many.  Enjoy the intricate candy decorated gingerbread creations. It will be hard not to get into the spirit of Christmas while walking though the displays of gingerbread houses too pretty to eat. You may even become inspired to make your own holiday gingerbread house!
The gingerbread houses are on display in the main lobby floor in both wings of the resort. A map can be obtained from the information desk of the Omni Grove Park Inn. While at the Omni Grove Park Inn you can also do some shopping at the gift shop, warm up and enjoy the fire in the fireplace in the lobby, and see the display of more than 80 decorated Christmas trees. The Omni Grove Park Inn is a magical place during the holiday season with Christmas trees, garland, lights, wreaths and decorations to impress us all. There is no charge to enter the resort and view the gingerbread houses but there is a $10 parking fee per car.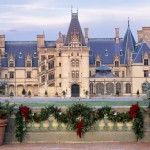 While in Asheville you can also visit Biltmore Estate. Christmas at Biltmore this year is November 6, 2015 – January 10, 2016. Biltmore Estate is beautiful any time of year but during the Christmas holiday season the huge estate is magical. Biltmore during the festive Christmas season is decorated with strands of garland, huge bows, dozens of  themed Christmas trees, thousands of glittering ornaments, and millions of twinkling lights.
The National Gingerbread House Competition at Omi Grove Park Inn in Asheville, NC
Gingerbread House Competition Asheville