Great White Sharks Off North Carolina Coast
Great white sharks are making a return appearance to the coast of North Carolina. Katherine is a regular visitor to the Outer Banks. She is a 14′ 2″ female white shark weighing 2300 pounds. She was tagged by OCEARCH in 2013. She cruised off the coast of the Outer Banks in January of 2015 and even toured the Pamlico Sound! She also made a visit to our coastal waters in September of 2014 off the coast of Nags Head.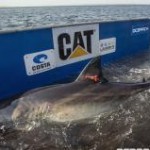 Genie is another great white shark tagged by OCEARCH in 2012. Genie is about 14 ft  long and weighs almost 2300 pounds. Genie has been swimming around in the Pamlico Sound the past few day according to the latest pings and locations on the OCEARCH website.
Meanwhile further south off the coast of Wilmington, NC is a third great white shark Mary Lee. She has also made previous visits to our coast. Mary Lee was tagged in 2012 at Cape Cod. She is 16 ft long and weighs 3456 pounds.
To follow Katherine, Genie, Mary Lee and other tagged sharks go to http://www.ocearch.org/
OCEARCH is a non-profit organization that does research on great white sharks. OCEARCH  website provides tracking information, locations and individual shark profiles through the Global Shark Tracker. It's an interesting website. Especially if you live near the coast and want to see what's swimming around out there!
Great White Sharks Off NC Coast