Ever Seen the Road Sign Harmon Den NC on I-40 in Great Smoky Mountains?
Have you ever been traveling between North Carolina and Tennessee on I-40 in the Great Smoky Mountains and noticed the road sign Harmon Den NC. Have you ever wondered what it is: a town, a community, a campground or anything else? Here is your answer. If you take Exit 7 on I-40 and follow the signs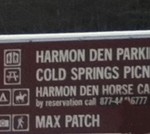 you will discover it is a large area of horse trails. Harmon Den Horse Campground is located in North Carolina and is part of the Nation Forests in North Carolina.
The horse campground is within the Pisgah National Forest and offers miles of trails with beautiful mountain scenery including waterfalls and mountain streams,  rich green forest undergrowth, and lush green forested mountain peaks and valley. Wildlife is abundant and can be viewed while in the area including bear, deer, grouse and wild turkey. Harmon Den Horse Campground is open from May 1st, through October 31st each year.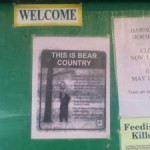 Harmon Den NC has about 14 miles of horse trails and about 40 miles of hiking trials. There are also gated dirt forest roads open for riding horses. Roads and trailheads
are marked with sign with their designated uses (hiking, horses, or vehicles). Level of difficulty is also designated on the signs. There are facilities at Harmon Den Horse Campground with well water, horse stalls, picnic tables, gravel tent pad, fire ring, lantern post and parking.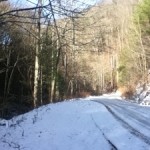 For more information on Harmon Den Horse Campground Facility Details go to Harmon Den Horse Campground at www.recreation.gov
View of waterfall at Harmon Den…
Harmon Den NC on I-40 Near NC/TN State Line