WRAL Freedom Balloon Fest Memorial Weekend
The skies over Raleigh, Zebulon and Wake County on Memorial Weekend will be full of colorful high-flying hot air balloons. The WRAL Freedom Balloon Fest is a major hot air balloon festival featuring a skills competition, a balloon "glow" at sunset event, a meet and greet the pilot event and tethered balloon rides. The event takes place over the Memorial Weekend starting Friday May 22 through Monday May 25, 2015.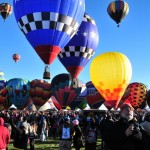 The WRAL  Freedom Balloon Fest will be at Bennett Bunn Plantation located in Zebulon and also at Spring Forest Rd Park. This hot air balloon event is a premier event with over 30 balloon pilots and teams competing. The festival is open to the public. It begins Friday with a mass gathering and landing of the participating balloons then a balloon "glow" at sunset. Then the competition and other events continue thru the weekend and into Monday.
On Saturday and Sunday the public can get a close look at the hot air balloon, talk with the pilots, take a tethered balloon ride, and watch each evening a glow at both Bennett Bunn Plantation and Spring Forest Road Park.  All events at the festival are wind and weather-dependent due to safety reasons.
For more information visit WRAL Freedom Balloon Fest.
Just a quick peek at what's coming…
Hot Air Balloon Event WRAL Freedom Balloon Fest Memorial Weekend