The North Carolina Zoo in Asheboro has some fun activities in October for Halloween. Head to the NC Zoo for these fun and spooky activities. The kids will love it plus  the programs are educational!
October 18 and 19, 2014   Batology 101 – Learn all about bats and see a live vampire bat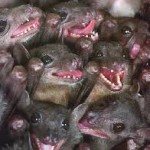 feeding with REAL BLOOD!
October 25 and 26, 2014   BOO at the ZOO –  a whole weekend of Halloween fun with trick or treating, games, storytelling, live entertainment and of course a costume contest for the kids! This is popular and favorite special activity held each year.
Check out the times and schedules at the North Carolina Zoo.
Go see the bats at the North Carolina Zoo…
.
Howl-O-Ween at the North Carolina Zoo!