Katherine The Great White Shark At OBX
Katherine the great white shark has returned to the waters of the Outer Banks. She sure does like sending time off the North Carolina coast because she is back again for another visit. OCEARCH tracking has her swimming off the waters at the Outer Banks on July 31, 2015. Katherine is a frequent visitor to the Outer Banks. Last year she even made it into the Pamlico Sound for a quick swim through the sound! This year she has been hanging around the Atlantic Ocean waters off the coasts of Georgia and both Carolinas instead of going south around Florida's coast and on into the Gulf of Mexico.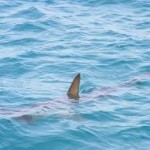 Her friend Mary Lee, another great white that has visited the waters of the Outer Banks in the past. She is currently swimming in the waters off the Georgia coast. Visit OCEARCH website and see for yourself just where these two and other tagged sharks are at and where they are headed.
Katherine The Great White Shark At OBX