Michael Bolton in Concert at Durham Performing Arts Center in March
Michael Bolton, singer and songwriter with numerous hits including "When a Man Loves a Woman" and "How Am I Supposed to Live Without You" will be in concert on March 4, 2015 at 7:30PM at the Durham performing Arts Center in Durham, North Carolina. Other hits include "Said I Loved You…But I Lied", "Soul Provider", "Time Love and Tenderness" plus many more.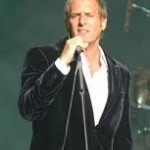 He  published an autobiography, The Soul of It All: My Music, My Life in 2013. Has a songwriter he has worked with other top artists such as Lady Gaga and Bob Dylan. Other artist have also recorded his music including Barbra Streisand and Cher.
Michael Bolton had many pop hits in the 1980's with his popular love songs, especially with his many female fans and followers. Michael Bolton in concert singing some of his popular songs from the 80's and 90's plus more current songs from his latest releases.
Tickets can be bought at Micheal Bolton at the DPAC.
See Michael Bolton sing live "When A Man Loves A Women"
Michael Bolton at the Durham Performing Arts Center