Read about North Carolina's  Muscadine Heritage Wine Trail and hit the road! The North Carolina wine business is growing rapidly. The state has more than 400 vineyards and 100 wineries. The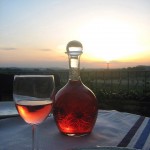 wine and grape industry provides a huge economic impact to the state with over $1 billion generated over the last few years. Yadkin Valley in the northwestern area of the state has several wineries, but Johnston County in the southern coastal area of the state also has wineries and vineyards. Just take a look at the local grocery store's wine aisle and see some local North Carolina names on the labels.
The Muscadine Heritage Wine Trail is a tour of four wineries where visitors can tour each muscadine winery and learn about the winemaking process. All four are family owned. The tours includes the fields and the production process plus wine tasting. More information can be found at the Muscadine Heritage Wine Trail.
The Muscadine Heritage Wine Trail covers these wineries in southeastern North Carolina:
Adams Vineyards in Willow Springs
Enoch Winery in Benson
Gregory Vineyards in Angie
Hinnant Family Vineyards in Pine Level
Discover the Hinnant Family Vineyards…
Muscadine Heritage Wine Trail