NC Attractions from Across the State
NC attraction are numerous. From the highest NC mountain peaks east of the Mississippi to the farthest sands on the NC coast the attractions are what make NC such a great place to visit. Here are just a few of them listed by region:
Mountain Area Attractions
Grandfather Mountain– a North Carolina mountain state park near Linville, North Carolina. Elevation is 5,945 feet.
Great Smoky Mountains-mountains in western NC. Also site of The Great Smoky Mountain Nation Park.
Cateloochee– historic buildings  preserved in the valley, including two churches, a school, and several homes and outbuildings. Valley surrounded by 6000-foot peaks. Can see  elk, deer, turkey, and other wildlife.
Biltmore House– large private estate and tourist attraction in Asheville, North Carolina. Main house, gardens and ground open to the public for touring.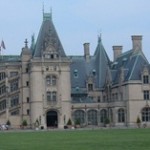 Blue Ridge Parkway– a National Parkway with breath taking mountain views. A 469 mile long scenic highway mostly along the Blue Ridge. Has many milepost marked stops with overlooks and visitor centers.
Cherokee-The ancestral homeland of the Cherokee Indians and location to the south entrance to the Great Smoky Mountains National Park.
Chimney Rock State Park– a 1000-acre  mountain attraction with hiking trails and great views from Chimney Rock.
Mount Mitchell State Park– the highest mountain peak in the eastern United States. A fantastic view from the Observation Deck. Located 35 miles northeast of Asheville, NC.
Clingmans Dome-the highest point in the Great Smoky Mountains National Park at 6,643 feet. The observation tower on the summit has a 360° view of the GSM.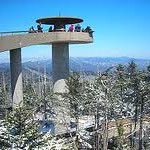 Fontana Dam– a hydroelectric dam on the Little Tennessee River. Fontana Dam is the tallest dam in the Eastern United States.

Mast General Stores-traditional mercantile goods, clothing, footwear and outdoor gear. Locations: Valle Crucis, Boone, Asheville, Waynesville and Hendersonville. Recognized by the National Register of Historic Places.
Chruches of the Frescoes– St. Mary's Episcopal Church in West Jefferson and Holy Trinity Episcopal Church in Glendale Springs. Fresco artist Ben Long created magnificent works. See his images Mary Great with Child, John the Baptist, and The Mystery of Faith and  The Last Supper at Holy Trinity Episcopal Church in Glendale Springs.Thousands of people visit the frescoes each year.
Harrah's Cherokee Casino– a casino located on in Cherokee, North Carolina. Feature live table games like Blackjack, Roulette, Craps, Digital Blackjack and Baccarito. Hotel and casino.
Coastal Area Attractions
Cape Hatteras National Seashore-located at the Outer Banks of NC. Preserves the beaches from  Bodie Island to Ocracoke.    Includes Pea Island a refuge for migratory birds in the winter. CHNS offers a wide variety of recreational activities along the NC coast.
Wright Brothers National Memorial-the place where flight began.See reproductions of the 1902 glider, the 1903 flying machine, and the location where the flight took place. Climb Big Kill Devil Hill. Stand where the brothers experimented with flight. Visitors Center.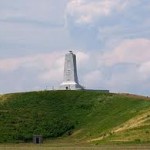 North Carolina  Aquariums– 3 public aquariums located in Kure Beach, Roanoke Island and Pine Knoll Shores.Over a million people visit annually. Includes indoor and outdoor exhibits, educational programs, classrooms, meeting spaces and gift shop.
Jockey's Ridge– the largest natural sand dune on the east coast. On the NC Outer Banks in Nags Head. Overs 426 acres. of natural wind swept sand dunes. Watch hangliders soar from the dunes.
Roanoke Island Festival Park– an attraction that celebrates the first English settlement in America. Tour the Elizabeth II with  costumed 16th-century sailors. In the park try traditional woodworking, play Elizabethan games, and stroll through the Settlement Site. Discover 400 years of local Outer Banks history in the Roanoke Adventure Museum.
Cape Lookout National Seashore-preserves a 56-mile  long stretch of beaches at  the Southern Outer Banks (The Crystal Coast)  from Ocracoke Inlet to Beaufort Inlet. Site of Cape Lookout Lighthouse.
Ocracoke Island-a small and remote island and part of the NC Outer Banks.  Named the #1 beach in America in 2007 for its clean and white sandy beaches. Only accessible by ferry, boat or small plane.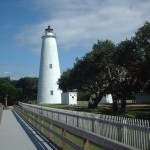 The Lost Colony-an outdoor drama that takes place at the waterfront theater on Roanoke Island on the Outer Banks. The tragic and mysterious story of the English colonists who first attempted to settle in the New World.
Battleship North Carolina-USS North Carolina (BB-55). Moored across the river from downtown Wilmington. Walk her decks and learn about her crew that was stationed in the Pacific  during World War II.
Elizabethan Gardens– a 10.5 acre public garden located at Fort Raleigh National Historic Site.  Over 500 different types of plants including  colorful hydrangeas, camellias, historic herbs and native coastal species. Flower displays are changed seasonally to insure year round beautiful displays. Available for weddings.
Fort Fisher State Historic Site– a confederate fort during the Civil War. Kept North Carolina's port of Wilmington open to blockade-runners supplying necessary goods to Confederate armies inland.About ten percent of Fort Fisher still stands along with a restored palisade fence. Tours and a Visitors Center.

Shackleford Banks Wild Horses– a barrier island on the southern coast of NC. Home to a herd of feral horses "Banker Horses".  Legend is these horses are descendants of Spanish Mustangs  that survived a long ago shipwreck, swam ashore and established residence on Shackleford Banks.
Piedmont Area Attractions
North Carolina Zoo-family fun with animals and exhibits. 500 acre zoo with wildlife from two different continents:from Africa's grasslands to North America's Arctic coast. Just outside of  Asheboro, NC.
Charlotte Motor Speedway– a motorsports complex located in Concord, NC and  13 miles from Charlotte. The complex features a 1.5 miles oval track. The Charlotte Motor Speedway is the site of  the NASCAR race the Coco-Cola 500.
Sylvan Heights Waterfowl Park-has over 2,000 swans, ducks, geese and other exotic birds from around the world. A 18-acre facility displaying birds from South America, North America, Europe, Africa, Asia and Australia. Also has natural areas and gardens that add to the beauty of the birds on exhibit.
Carowinds Amusement Park– a 398-acre amusement park. On the North Carolina and South Carolina boarder, about 15 miles from Charlotte. Open from March till October. Has rides, entertainment and food fo the entire family to enjoy.
North Carolina Museum of Natural Sciences– Located in the capital Raleigh ,NC. The largest museum of its kind in the Southeast. Exhibits, programs and field experiences, providing visitors the opportunity to get up close and personal with science and nature. Offers permanent and special exhibits, live programs and educational films for all ages.
NC State Fair-The North Carolina State Fair is held every year in October at the NC state fair grounds. Rides, animals, concerts, entertainment, food, crafts and exhibits.
Mount Airy, NC-Actor Andy Griffith was born in Mount Airy. The town is reportedly the basis for the fictitious city of Mayberry on the 1960's TV show The Andy Griffith Show. A popular tourist attraction.
Hickory Furniture Mart– a unique mix of factory outlets, custom showrooms and private galleries. A  four level complex with home furnishings, accessories, indoor and outdoor lighting, artwork, fine oriental rugs, fabrics, and  personal design services.
Seagrove Potteries-home. to the Museum of NC Traditional Pottery and the Seagrove Pottery Festival. A 200-year-old working community of potters. Located in downtown Seagrove. Museum, pottery shops and galleries.
Tryon Palace– a modern reconstruction of the historical colonial royal governors' palace of the Province of North Carolina. Built in the 1950s across from the original mansion site. Located in New Bern, North Carolina.
NC Sports Attractions
Sports in North Carolina is a major attraction with multiple venues. NC offers professional sports in basketball and football; minor league baseball teams, college sports, auto racing, golf and various other sporting organizations. NC college sports has a huge fan base and attracts attention worldwide. The Atlantic Coast Conference (ACC) in college sports has some of the best teams in competition. On any day there will be some type of organized NC sport competition going on.
Map of NC Attractions