The Beautiful Crystal Coast of North Carolina
The southern chain of barrier islands on the North Carolina coast  are  referred to as the Southern Outer Banks or The Crystal Coast. The Crystal Coast beach area start at or below Portsmouth Island and continue down to the South Carolina state line. It  is an 85 mile stretch of islands that extends from the Cape Lookout National Seashore  westward to the New River. The Crystal Coast is a popular area for tourists in the summer months. These south facing  beaches have beautiful views of the sunrise over the Atlantic Ocean horizon and memorable sunsets over the Pamilco Sound to the west. The beaches are not crowded, are clean and wide with beautiful white sand, and offer many activities such as fishing, scuba diving, surfing and boating.
The waters off the North Carolina coast are referred to "Graveyard of the Atlantic". Over the last hundred years hundreds have ship have ended up at the bottom of the ocean due to the dangers shallow shoals just off the coast. Wild Spanish horses roam Shackleford Banks. Descended from Spanish horses that were aboard ships bound to the new world but shipwrecked close to shore. The horses survived, swam to shore and grew in number over the past 400 years.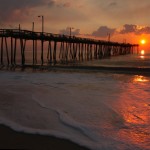 Cape Lookout Lighthouse is part of the Crystal Coast and is part of the Cape Lookout National Seashore. The lighthouse and island can be reached only by private boat or boat taxi. Spending a day at Cape Lookout is a fun adventure for the whole family. Just remember to take the sunscreen lotion!
A beach vacation on the Crystal Coast is very popular. Vacation rentals are available as cottages, vacation rental homes and condos. The numerous rental agencies offer a wide variety of options-type of rental, location such as beachfront or soundside rentals, and economy choice to luxury. A NC beach vacation at the Crystal Coast is something to experience.
The Southern Outer Banks include: Atlantic Beach, Beaufort, Emerald Isle and Carteret County, Harkers Island, Morehead City, Newport, Salter Path and Indian Beach. To travel to this area take US Highway 70, NC Highway 58, NC Highway 24, or NC Highway 101. Just keep driving east and look for the seagulls.
Map of The Crystal Coast