NC Beach Rentals Make the Perfect Accommodations
NC beach rentals can make the perfect Outer Banks and Crystal Coast vacation accommodations. Vacation rentals are like home away from home maybe even better. Instead of spending your vacation in a noisy and crowded hotel a vacation beach  rental can offer the conveniences of  a home in a more private environment. With so many NC beach rentals on the Outer Banks there is one perfect for your vacation needs.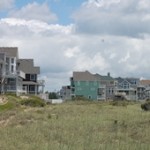 In Dare, Currituck and Hyde counties at the Outer Banks there are over 21,000 rentals . Advantages of a vacation rental include privacy, freedom, convenience and space. Privacy so you will not have to share the swimming pool or the balcony or deck, not to mention private sleeping quarters for family members and friends. Freedom to sit on the deck and enjoy the view without neighbors being too close by. Freedom to lounge around and enjoy meals without having to "get ready" to go out in public. All rentals have a full kitchen with most everything  needed to cook and prepare meals. Even grills, either a charcoal grill or a gas grill for that big family cookout. Another advantage to a rental is family and friends will have places to congregate and enjoy shared time together, whether it be in the family room, sitting around the kitchen table, sitting out on the deck or having a good time in the recreation room. A beach rental is a great place for celebrations or family gatherings such as family reunions where everybody from around the country can meet at the beach house and have a shared vacation. A beach wedding where the wedding party can congregate before and after the joyous occasion at a central location is a real plus especially if its a oceanfront rental. Many vacation rentals are multi-levels where each floor is like a separate house for each family unit but have shared common areas where all can gather while on vacation at the Outer Banks.
The basic amenities to most all rentals are air conditioning or heat, cable TV, telephone, washer and dryer, kitchen appliances (stove, stovetop or range/oven, microwave ,refrigerator, and dishwasher), indoor and outdoor furniture-such as deck chairs , blankets and pillows, and basic housekeeping equipment such as brooms and vacuums for everyday cleanup. Extra luxury items at a rental can be swimming pools, hot tubs, , recreation/play  or game rooms, whirlpool tubs, fireplaces, wireless internet service, home theaters, fitness rooms /equipment, and elevators.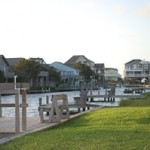 Tips for Choosing a NC Beach Vacation Rental:
1.  Choose the area of the Outer Banks or Crystal Coast you would like to stay. Each area or village has it's own charm and character. There are a lot of attractions on Roanoke Island but the beach is a few minutes drive away. The Nags Head-Kill Devil Hills-Kitty Hawk area have fishing piers; lots of beach access and sound access; shops, malls and outlets. Corolla and Duck have there own atmosphere with upscale shops and restaurants; the tri-villages on the north end of Hatteras Island are quite and peaceful. Avon and Buxton are busy with a major chain grocery store and movie theater. Cape Hatteras Lighthouse in located in Buxton. On the south end of Hatteras Island Frisco has rentals with canal access. Hatteras Village has lots of marinas and charter boat and private boat docks. Ocracoke Island is a small remote and quaint village at the Outer Banks with a very relaxed atmosphere. At the Crystal Coast NC beach rentals in Atlantic Beach, Morehead City, Pine Knoll Shores, Beaufort, Indian Beach, Emerald Isle, Newport, and Harker's Island are popular areas for a vacation.
Do some research about the different villages and attractions and see what your family want for that perfect Outer Banks vacation. What your interest are whether it be water sports, fishing, sightseeing and visiting the attractions, shopping or just plain getting away from it all-make sure the area you choose is suited to your interests.
2. Next decide on choosing where in that area you would like the rental to be situated. Do you want the rental to be oceanfront, oceanside, between the highways, soundside, soundfront, canalfront.
3. Know how many people will be included in the vacation. Rentals have a set number of people that the house "sleeps". Don't get too large a house that sleeps more people than you need. Sometimes a rental may sleep more then the number of bedrooms or beds listed, sofas that pull out into a bed and cots may be in the beach rental so more people can be accommodated than you think by just the number of bedrooms listed for the house.
4.  Consider the price. The rental prices vary widely and the choices are many. Keep in mind all vacation rentals will have a North Carolina sales tax and the county occupancy tax added to the base price. This tax rate is usually 10-12%. Plus there is a security deposit and  insurance and processing fees added as needed. Just speak with the rental agency at the Outer Banks and ask what the add on fees may be the the vacation beach rental.
5.  What season to come is another important decision. The peak vacation season for the Outer Banks is the summer months of June, July and August. Coming before or just after the peak summer months can save you some money. The weather in May, September, October and even November is still very nice. And a winter vacation in the off season can be just as fun and relaxing.
6.  Rentals are usually booked for one or two weeks at the time. Some rentals are from Saturday to Saturday, some are from Sunday to Sunday. This makes it easier on the rental agencies to clean and prepare the rentals over both days because of the mass influx of vacationers coming over the course of the weekend.
7. How long do you want to stay on your Outer Banks vacation? Most rentals can be booked for 1-2 weeks. Some agencies book partial weeks and  take last minutes rentals. Policies vary agency to agency. Just call and the agency staff will be more than happy to work with you about the beach rentals.
Each rental agency has a website that can help you choose exactly what you are interested in. Play around searching for just what you want or need for a NC beach rental. You can designate the amenities you want, number of bedrooms needed, smoking or nonsmoking, pet friendly, and more. Call the rental agency and let the staff assist you with your needs. They are very helpful and very familiar with the rentals they have available.
There are about 50 property management/company rental agencies and or real estate agencies on the Outer Banks of North Carolina. With over 21,000 beach rentals combined you can find the perfect vacation home you need. The Outer Banks is host to almost 5 million visitors a year. Come visit one of the most beautiful places on earth and find out why so many people make the Outer Banks their NC vacation destination.