The Magical Outer Banks of North Carolina
The Outer Banks of North Carolina is a chain of barrier islands that start at the North Carolina/Virginia state line and continue down the coast to the island of Portsmouth. This northern chain of islands is what is commonly referred to as the Outer Banks. It  is over one hundred miles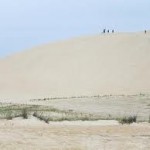 long and at its widest part only about three miles in width.  The chain of barrier islands continue to the southern coast of North Carolina but they are  referred to as the Southern Outer Banks or The Crystal Coast. The Crystal Coast beach area stops at the South Carolina state line.
The Outer Banks of North Carolina is famous world wide and is a a popular vacation destination. Some of the best beaches in the world are located at the Outer Banks. US Travel News just ranked the Outer Banks #8 world wide has having the  best beaches. The NC beaches are wide, clean and less crowded than most. Vacation rentals at the Outer Banks are a great way to enjoy the beach. There are hundreds of rental on the Outer Banks that will be perfect to spend a week or two at the beach. Vacation rental homes are very popular, choosing a soundside, oceanside or oceanfront home or condo. Prices vary but run from affordable and basic to expensive and luxurious. There is so much to see and do on a beach vacation such as fishing (surf, pier, and charter boat); shopping; climb the sand dunes, got to the waterfront outdoor drama The Lost Colony, visit the Wright Brothers Memorial, or just enjoy the water sports like surfing, swimming or kiteboarding.
The Outer Banks or OBX as it is also referred to is composed of numerous separate and vastly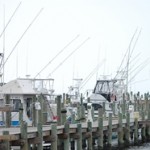 different towns, villages, cultures, dialects and people. They include Roanoke Island, the Northern Beaches, Hatteras Island, Ocracoke Island and Portsmouth Island. On one side of the islands the vast Atlantic Ocean while inland lie the calm waters of the Albemarle Sound and the Pamlico Sound. The area was first inhabited by the Croatan Indians, part of the Algonquin tribe, due to the mild winters and abundant fish and wildlife. European Settlers followed next in the 1500's looking for a new world to start anew. The first attempt to establish a permanent colony went dreadfully wrong. What happened to The Lost Colony is a mystery even today and the story is played out in the outdoor drama at the Waterfront Theatre in Manteo at the Outer Banks.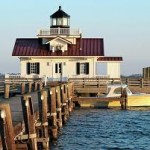 An Outer Banks wedding is an unforgettable event! Whether by the seashore or at one of the beach resorts getting married at the NC coast can be the perfect setting for a dream wedding. Capturing wedding pictures with a beautiful sunset in the background or the ocean surf  washing over your barefoot feet during the ceremony can be magical.
Scenes from the Outer Banks…

Map of The Outer Banks of NC