Here are some places to go to see some festive holiday NC Christmas Lights Displays!
Wilmington- Airlie Gardens-A garden stroll with Christmas Lights, food, drinks and Santa.
Burlington-Twin Lakes Community lane of lights. Ride thru more than a mile of lights. Cookies given out by the Twin Lakes residents.
Benson- Meadow of Lights Take a train ride thru the display of Christmas Llights. Old-fashioned candy at the Old Country Store. Also ride the carousel.
Fayetteville- 1000's of lights dress up the Cape Fear Botanical Garden. Enjoy the Christmas music
Fletcher (near Asheville) – Shadrack's Christmas Wonderland at Western NC Agricultural Center (Fairgrounds). Santa's Village, hot beverages and rides!
Clayton (near Raleigh)- Lights on the Neuse Christmas Lights Park Take a 1/2 hour tractor-drawn hayride through a light display and winter wonderland while listening to Christmas music. Visit with Santa, buy candy or hot cocoa from Santa's Sweet Shop.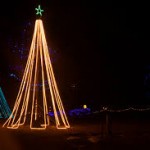 NC Christmas Lights Displays-Where to Go