Asheville NC home of the 

panoramic vistas of the Blue Ridge Mountains
Asheville NC is nestled in the Blue Ridge Mountains. Take time to journey down to mile marker 384 just east of the historic downtown Asheville to stop at the Blue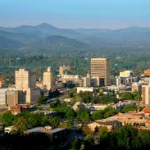 Ridge Parkway Center and Folk Art Center. Asheville NC is a place of natural beauty, friendly folks, and lots of culture. Its a town rich in history. In the fall Asheville is a great place to see the fall foliage color show that turns the NC mountains into a colorful landscape of vivid reds and golds.
Asheville NC has things to do for the young and the old. It has a bus tous that will take anyone to a number of landmarks that include the Lance monument and Jackson building. Enjoy the numerous live street musicians that play folk music while eating at a fine dining restaurant or enjoy outside dining. The restaurants of Asheville NC have a wide choice in their menus that will entice anyone's taste buds. There are several coffee & tea shops to stop in and they carry a wide selection. Those that have a sweet tooth will find the Chocolate Tour heavenly. The adults will find that the night life downtown Asheville is a place to unwind after a long day with drinks from the local breweries and wineries. Listen to jazz and live music along with dancing at the local night spots.
Families and people who want to enjoy a slower, easy going day will enjoy the Asheville Downtown Gallery Association Art Walks that are held the first Friday of every month from spring to December. The wine enthusiast will enjoy the North Carolina Wine Month held in September at the Biltmore Winery. Adults can wine taste a variety of wines made right there at Biltmore. In early September there are a number of unique and exciting festivals to enjoy. A favorite is the New Belgium's Clips Beer and Film tour. Here try a number of award winning beers including the Amber Ale then view the New Belgium's Lips of Faith Series. The Hazel Robinson Amphitheater host during August through September on Friday, Saturday and Sundays shows of Hamlet.
People who who are looking for adventure can experience the Appalachian and Blue Ridge Mountains. Taking one of the zip line canopy tours offered in Asheville. People can enjoy the natural beauty of the fall season each year. Enjoy a hike at one of  a number of the state parks, the CMLC Florence Nature Preserve, and National Parks. The hiking trails are for people of all fitness levels to use, along with being free. People just need to remember to read the regulations or rules posted for personal safety. There are a number of beautiful waterfalls and views that are perfect for couples newly married, honeymooners, or people who are celebrating special occasions. If a more romantic spot is needed then Devil's Courthouse and Craggy Gardens will be a great place to watch a beautiful sunset has it sinks below the mountain range. The people who want to get wet and wild will enjoy the companies that offer white water rafting, canoeing and kayaking trips along the Nantahala River which has class 1-3 rapids to enjoy.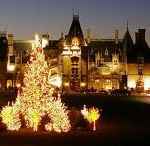 Biltmore Estate is a large private estate with 250 rooms and a popular tourist attraction in Asheville. Biltmore House, the main house on the estate, is a Châteauesque-styled mansion built by George Washington Vanderbilt II between 1889 and 1895 and is the largest privately owned house in the United States. Touring Biltmore Estate at Christmas when it is decorated with hundreds of Christmas Trees, lights, ornaments, wreaths and poinsettias is just breathtaking. And the Candlelight Christmas Evening tours offered during the Christmas season is magical to all ages. There is also a winery on the grounds for tour and for taste testing, and there are shops and a restaurant on the grounds. There are many hotels is downtown, stay in one of the bed and breakfast places as a romantic get-away and families enjoy the rustic cabin by renting in Asheville and the surrounding area. The Omni Grove Park Inn is a nearly one-hundred-year-old historic resort hotel in Asheville, North Carolina. It is a AAA Four-Diamond Hotel with fine dining, spa and luxury accommodations.
Asheville is a unique city in a beautiful setting surrounded by the Blue Ridge Mountains. A visit to Asheville makes for a memorable trip.
A 5 minute tour of Asheville NC…