Charlotte-
North Carolina's largest metropolitan area
There is no denying that Charlotte, NC is the largest and one of the highly attractive cities in North Carolina. The city comes with the advantage of splendid recreational centers that are ideal for family or individual travel. A visit to this city is an ideal opportunity to enjoy the various restaurants, parks, museums, and theaters that are located in and around the area. For those who desire some bit of indulgence, Charlotte promises some of the best wineries and bars that easily relax tired souls in one of the most rejuvenating ways imaginable. If your intention is to do some shopping, Charlotte offers a varieties of goods and services from the various shopping malls, boutiques, and outlet centers.
One of the most adventurous places in Charlotte is the National Whitewater Center. Your visit to this place should fulfill your experience with a thrilling whitewater rafting ride. If you want more thrills then you should visit Carowinds where you will witness the full glamour of rip-roaring coasters and rides as well as food and entertainment suitable for the whole family. Carowinds in Charlotte is a major attraction in the state of North Carolina.
If you like fast cars the Charlotte Motor Speedway is a great place to tour or even attend one of the many races they have. The speedway remains one of the most popular among racing and  sports enthusiasts. The choice is also very fitting for families bringing along their younger children who are particularly thrilled by the car races.
For those that love to travel and see North Carolina's varieties of nature and  beauty, a trip to the Daniel Stowe Botanical Garden could suffice. There is a great varieties of flowers and plants to see and enjoy. The botanical garden is especially ideal for couples and  honeymooners, who can use the tranquility and serenity of the place to take some of the most romantic pictures for memory. The site is also suitable for reflective individuals who desire quiet moments in a lush and soothing environment that connects effectively with their inner spirits.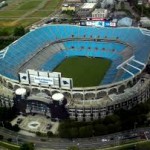 After you have savored the many delights that complete the city's grandeur, you should proceed to the Blumenthal Performing Arts center where you will be entertained by quality live performances and many other activities such as the Charlotte Symphony, North Carolina Dance Theater, Opera Carolina, and the Queen City Theater Company. There are different entertainment activities offered particularly during the weekends.
Charlotte is home to the professional football team the Carolina Panthers. Race fans have the Charlotte Motor Speedway and favorites of golfing can use the the Charlotte, NC tour to sample some of the best golf courses including the Rocky River Golf Club or the Olde Sycamore Golf Foundation. Charlotte, NC is renowned as one of America's best golfing destinations. Ultimately, a visit to Charlotte connects you to inexhaustible delights and fun in the city's gentle and humid climate.