NC Prepares For Hurricane Matthew
North Carolina is preparing for the approaching Hurricane Matthew. The steering currents are steering this storm toward the North Carolina coast. This is a large hurricane that covers a wide area. Currently this Category 4 hurricane has a tropical storm-force wind field (at least 39 mph sustained winds) that currently extends over 300 miles wide. Hurricane-force winds extend up to 40 miles from the eye of Hurricane Matthew. Landfall is forecast to take place between the South Carolina and the North Carolina border by this weekend.  Predictions are for the hurricane that is now a Cat 4 to be a Cat 2 when it reaches the Carolinas on Friday. Recent rain has made the rivers and creeks already full. If Hurricane Matthew brings a lot of rain and strong winds as anticipated then we need to prepare now for more flooding.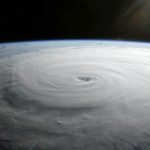 Pay close attention to the news and weather forecast to keep up to date on Hurricane Matthew and how it will impact North Carolina. Travel in and around the state on Friday, Saturday and possibly Sunday may be dangerous. There is the potential for flooding, downed trees, structural damage and loss of power. Preparations have already begun in the coastal communities of Dare County and Hyde County. Hurricane Watches and Warning will likely be posted by the National Weather services.
Start planning now to prepare for this powerful hurricane. Make sure you have batteries, candles, bottled water and food that will not need refrigeration just in case electrical power is lost. Heavy rain and windy conditions are expected starting as early as Friday and lasting into Saturday and maybe even Sunday as this slow moving hurricane travels up the eastern coast of the United States. Please stay safe. Be aware of weather conditions and forecasts for North Carolina, especially if you have plans to travel. This storm may impact the NC mountains and fall foliage and the fall colors.
Please use our live NC web cams page to see conditions across the state. From the coast to the mountains our live web cam links can offer real-time weather conditions in North Carolina.
NC Prepares For Hurricane Matthew