NC State Fair 2016
The NC State Fair 2016 starts Thursday October 13 and ends on October 23, 2016. Nothing Could Be Finer is this year's theme. Here is a partial list of just some of the Dorton Arena Concerts for this year's state fair:Youth Choral Competition, Here As In Heaven: Raleigh with Elevation Church, Delta Rae with Katelyn Read, Chris Lane with Kasey Tyndall, The Embers featuring Craig Woolard, Jim Quick & Coastline, The Soul Psychedelique Orches tra,Superchunk from Durham, Skylar Gudasz, A Night of Praise feature local gospel groups, punk and heavy metal band Corrosion of Conformity, The Ultimate Johnny Cash Tribute featuring Johnny Folsom 4 & Friends, and legendary saxophonist Maceo Parker.
There is something for everyone this year with the wide range of performances taking place over the 10 days of the NC state fair. Even more musical performances will be at the various stages throughout the fair grounds each day. Then there is always the folk festival, the carnival rides, horse show, animals, arts and crafts, food, flower and garden show and exhibits, games, agriculture and educational exhibits, food, craft and recipe blue ribbon winners, and so much more.
New Fair Foods For This Year!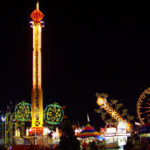 New for the NC State Fair 2016 will be those new and delicious food items that make the NC state fair so fun. This year will feature such treats as NC Low Country Boil, Deep Fried Cuban Roll, Fried Chicken & Waffle Kabob, Shrimp Bites, Deep Fried Jello, Salted Caramel Maple Bacon Funnel Cake, Man's Sandwich plus many more. And of course there is always the candy red apples, fresh made ice cream, the funnel cakes and the cotton candy.
New for this year is The Market Place with your favorite vendors from the Commercial & Education Buildings. The Market Place is a new 5,600 square foot tented vendor area located just outside the Grandstand and across from the Rabbit Barn. The Hobbies & Crafts will be located in a new place for this year's fair. With the brand new addition of the Market Place, the Hobbies & Crafts competitive exhibits will move to the Commercial & Education Building near Hillsborough Street. More room for more hobbies and crafts to display!
This year's state fair is set to be the best ever. The weather forecast looks great with sunny days and warm temperatures so it should be perfect weather to head to the NC State Fair. Load up the car and head to the NC State Fair and have a great time cause Nothing Could Be Finer!
For more information, daily schedules, complete list of show and ride please see NC State Fair .