More Snow For Us With Another North Carolina Winter Storm Warning
Here we snow again neighbors with another North Carolina Winter Storm Warning taking effect tonight. Winter Storm Remus is moving toward North Carolina now Wednesday Feb. 25, 2015. Predictions for the amount of snow we are going to get are all over the place from just a few inches in the sandhills to possibly a foot toward the Virginia state line. At least this time the air temperatures will only be near freezing instead of the arctic air masswe had last week.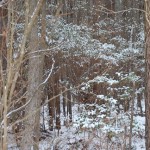 Here is the Winter Storm Warning from the US National Weather Service:
Winter Storm Warning in effect from 6:00 PM EST until Thursday, 12:00 PM EST. Source: U.S. National Weather Service
…WINTER STORM WARNING REMAINS IN EFFECT UNTIL NOON EST
THURSDAY…
* LOCATIONS…TRIAD…SOUTHWEST PIEDMONT…TRIANGLE…NORTHERN
PIEDMONT…AND NORTHERN COASTAL PLAIN.
* HAZARD TYPES…SNOW.
* ACCUMULATIONS….5 TO 10 INCHES OF SNOW. AMOUNTS WILL VARY
SIGNIFICANTLY ACROSS THE WARNING AREA…ESPECIALLY ALONG THE
HIGHWAY 64 CORRIDOR WHERE ACCUMULATIONS MAY VARY SIGNIFICANTLY
BETWEEN NORTHERN AND SOUTHERN PORTIONS OF THE SAME COUNTY. THE
HIGHEST SNOWFALL TOTALS ARE EXPECTED TO OCCUR NORTH OF HIGHWAY
64…ALONG AND EAST OF A LINE FROM THE TRIANGLE NORTH TO
ROXBORO.
* TIMING…A MIX OF RAIN AND SNOW WILL OVERSPREAD THE REGION FROM
THE SOUTHWEST BETWEEN 7 AND 9 PM…THEN QUICKLY TRANSITION TO
SNOW. MODERATE TO OCCASIONALLY HEAVY SNOW WILL PERSIST
OVERNIGHT…TRANSITIONING BACK TO RAIN FOR A SHORT PERIOD OF
TIME ALONG AND SOUTH OF THE HIGHWAY 64 CORRIDOR. PRECIPITATION
WILL END BY SUNRISE THURSDAY MORNING.
* IMPACTS…EXTREMELY HAZARDOUS TRAVEL CONDITIONS. TRAVEL MAY
BECOME IMPOSSIBLE LATER TONIGHT…ESPECIALLY FROM THE TRIANGLE
NORTHWARD TO THE VIRGINIA BORDER…INCLUDING PORTIONS OF THE
INTERSTATE 85 CORRIDOR AND NORTHERN PORTIONS OF THE INTERSTATE
95 CORRIDOR.
PRECAUTIONARY/PREPAREDNESS ACTIONS…
A WINTER STORM WARNING MEANS SEVERE WINTER WEATHER CONDITIONS ARE
EXPECTED OR OCCURRING. SIGNIFICANT AMOUNTS OF SNOW WILL MAKE
TRAVEL DANGEROUS…IF NOT IMPOSSIBLE. ONLY TRAVEL IN AN
EMERGENCY. IF YOU MUST TRAVEL…KEEP AN EXTRA FLASHLIGHT…
FOOD…AND WATER IN YOUR VEHICLE IN CASE OF AN EMERGENCY.
I have had my bowl of snow cream so I am ready for spring to happen in North Carolina. Hopefully in just a few weeks we will start to see those buttercups (daffodils) pushing up in the dirt with warmer days and lots of sunshine! 23 days till spring North Carolina! Here is a link to the spring countdown clock. Just the picture is refreshing and warms you up!
North Carolina Winter Storm Warning Again