The Omni Grove Park Inn Gingerbread House Display in Asheville Going On Now!
The Omni Grove Park Inn Gingerbread House competition has on display this holiday season the 2014 Gingerbread House Competition in Asheville, North Carolina. The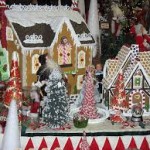 competition took place a few weeks ago but the gingerbread houses are on display now until January 1, 2015. The gingerbread houses from this year's competition are on display to the general public Sunday through Thursday and on display for resort guest on Friday and Saturday.
2015 National Gingerbread House Competition Link For Dates
You will be delighted as you stroll through the  display of magical gingerbread houses from cooks from all over the United States. While in Asheville make a special trip to the Omni Grove Park Inn to see this favorite holiday event. Enjoy the intricate candy decorated gingerbread creations. It will be hard not to get into the magic of Christmas while walking though the display. You may even become inspired to make your own holiday gingerbread house!
The Gingerbread Houses are on display in the main lobby floor (both wings). A map can be obtained from the information desk of the Omni Grove Park Inn. While at the Omni Grove Park Inn you can also do some shopping at the gift shop, warm up and enjoy the fire in the fireplace in the lobby, and see the display of decorated Christmas trees.
There is a $10 parking fee per car.
See last year's winner of the Omni Grove Park Inn Gingerbread House Competition…
The Omni Grove Park Inn Gingerbread House Display