Oriental Boat Show at Oriental Harbour Marina
The 7th Annual Oriental In-Water Boat Show takes place in Oriental, NC on April 10-12, 2015. Plus there will also be a Nautical Flea Market and Wooden Boat Exhibition. The boat show includes power and sail boats, cruising and fishing boats, more than 100 nautical and maritime exhibitors and in-water boat trials. The three-day boat show takes place at Oriental Harbor with the flagship sponsor River Dunes. The Oriental Boat Show started in 2009 and has become "one of the largest and most successful in-water shows between Annapolis and Savannah".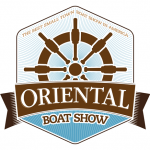 There will be about 95 exhibitors this year at the boat show. Just some of them include: All Things Canvas from Bryson City, Beta Marine US, from Minnesott Beach, Bluewater Yacht Sales from Beaufort, BridgePointe Marina from New Bern,Mike's Dive Service from Beaufort, Cape Lookout Yachts & Charters out of Oriental, Inner Banks Sails and Canvas out of Oriental, Matthews Point Marina & Yacht Sales, Havelock and Morehead City, United States Coast Guard Station Hobucken  and many more.
Oriental Boat Show Hours
Friday April 10,2015         12:00pm- 6:00pm       Flea Market opens at Noon
Saturday April 11, 2015    10:00am – 6:00pm      Flea Market opens at 10:00am
Sunday April 12, 2015      11:00am – 3:00pm      Flea Market opens at 11:00am
Admission Cost
Adult admission $5.00
Children 12 and under FREE admission
The Oriental Boat Show takes place in the village at Oriental Harbor Marina. See the map below for location and directions. For more info about exhibitors see Oriental Boat Show.
Take a look at last year's Oriental Boat Show…
Map and Location of boat show