The Raleigh Christmas Parade is November 22, 2014!
The Raleigh Christmas Parade will be Saturday November 22, 2014. The parade starts at 9:40 am on Hillsborough Street at St. Mary's Street. The route then heads to the State Capitol, turns right onto Salisbury Street then turns left onto Morgan St., then turns right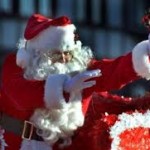 onto Fayetteville St and continues to Lenoir Street where it ends. Then parade route is  over 1 mile long and winds through downtown Raleigh. It  will last about last about 2-1/2 hours. The Raleigh Christmas Parade will be televised on WRAL starting at 10:00am Saturday morning with coverage by Lynda Loveland, Renee Chou and Bill Leslie. This year will be the 70th Annual Raleigh Christmas Parade.
Raleigh Christmas Parade Grand Marshal
This year the Grand Marshal of the parade will be Ira David Wood III. The parade will including "marching bands, large festive floats, giant helium balloons, animals, entertainers, specialty vehicles, plus special holiday surprises." The Raleigh Christmas Parade is one of the best on the East Coast! The weather for the parade on Saturday morning will be clear but cold with temperatures in the low 40's! Just right for a Christmas Parade!. Pack the chairs, blankets and hot chocolate and come watch the annual tradition! Make plans now and get there early to get a good seat with the best view of the bands, pretty girls, the fancy holiday floats, and of course Santa Claus!
Raleigh Christmas Parade Route
Here is a link to the Parade route for this year.
Did you know the Raleigh Christmas Parade has a Facebook page where you can see pictures of past parades and see plans and preparations for this year's parade? Make sure to visit their Facebook page and see all the fun pictures. It will get you in that holiday mood!