The Raleigh Classic Car Auction 2014 is this weekend June 20 and 21, 2014 at the NC State Fairgrounds. Over 300 high quality collector cars will be there. Beautifully restored classic cars like a 1950 Studebaker, a 1947 Cadillac, a 1966 Lincoln, a 1936 Ford, a 1965 Cobra and many many more. Sale time both days is at 9:30 am. This classic car auction features extremely rare cars with low mileage. Come to buy or just come to brows to see the beautiful classics.
Ticket are $10 for adults, $5 for kids under 12. At the Jim Graham Building at the NC State Fairgrounds. Nice and cool indoor event! For the car lovers of any age. Don't miss it!
For more info., or to register to bid, or see the cars go to Raleigh Classic Car Auctions.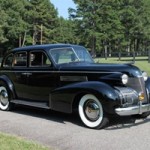 Raleigh Classic Car Auction 2014 at NC State Fairgrounds