Second Chance Pet Adoption in Raleigh is having their 3rd annual Furry 5K Run and 2K Walk on Saturday October 11, 2014 at the Wake Med Soccer Park in Cary, NC. There will be several events: a timed 5K run for just runners; a timed 5K run for runners with dogs; and a 2K and 1K walk for people and dogs. Plus other activities like the dog games with prizes, a  timed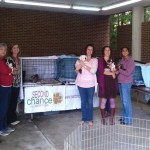 obstacle course or a timed Dog Bone Hunt! There will also be a tricks and training demonstration. Vendors will be there will all types of pet and people products.
This is an event for the whole family and your pet dog! Head out October 11 to the Wake Med Soccer Park and help this fundraiser so rescued dogs and cats can get the care they need to be healthy and find good homes.
"Second Chance Pet Adoptions is the oldest no-kill rescue organization in Wake County. At Second Chance, our mission is to champion homeless cats and dogs who are healthy or treatable in the quest to find their forever home…"
Find out more at The Furry 5K

Second Chance Pet Adoption 5K Run