Southern Farm Show Raleigh 2017 at NC State Fairgrounds
The Southern Farm Show Raleigh 2017 takes place Feb. 3-5, 2017 at the North Carolina State Fairgrounds. This fun event is not just for farmers. It has gown into a fun event to go to for everybody. Children love all the tractors and large farm equipment at the farm show. Even the big kids love the huge tractors and farm equipment on display. There are hundreds of vendors at the farm show with all types of outdoor, hunting and farm equipment, devices, supplies, products and more.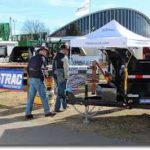 At this year's farm show you can test drive a Chevrolet on a track setup just for the test drive. A long line of people were waiting to test drive the bright blue Chevy Camaro, a Chevy Suburban and a Chevy pickup. Ford was also there with several vehicles on display with all their doors open and completely accessible to anyone who wanted a close look. You could sit in the vehicle, inspect it, walk around it, check out the motor. No salesperson around to annoy you!
There were multiple gigantic tents with all types of equipment inside. Things like dirt bikes, four wheelers, ATVs of every size. There were displays of zero turn lawnmowers big and large, farm planters, harvesters, tobacco equipment. grain equipment, combines big, small and ginormous! There were some of the biggest tractors you could ever imagine. Like I said big kids and little kids really enjoy going to the Southern Farm Show to see all the sights.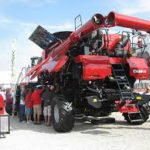 The Forestry Service is at this event. Many children were at this table talking with and getting their pictures taken with a Forest Ranger. They also have a lot of information about selling timber and how to reforrest your timber. There was information proper forrest management what to do and what not to mange woodland.
There is also entertainment with bands playing. And this year there was a lumberjack show which was fun to watch. Last year there was a cattledog demonstration as the cattledog rounded up a herd of sheep.
You can also do some shopping. Many vendor offer clothing, boots, capes and hats, gloves, coats, tee shirts, hoodies and other apparel. Carhartt was there this year with some nice coats and other apparel. John Deer was there with apparel and other items. There are licence tags, keychains, caps, coffee mugs and more.
The food is also good. Several vendors are setup around the grounds offering funnel cakes, fried twinkes, fried oreo cookies, hotdogs, hamburgers, steak and cheese hogies, blooming onions, curly fries, drinks and more. Inside the Graham builing is the Murphy Barbeque House severing hot meals of BBQ, hamburger steak, hotdog, hamburgers, cake and other deserts and more.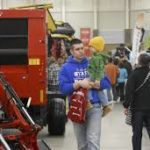 The Southern Farm Show in Raleigh is held each year in early February. The three-day even is getting bigger and better every year. If you think you don't need to go because you are not a farm you're making a mistake! Take the family, take the children and go enjoy this fun farm show.
Take a look at what the Southern Farm Show Raleigh at the NC State Fairground has to offer….
Southern Farm Show Raleigh