The Lost Colony Outdoor Drama 2015 Season at the Outer Banks
The Outer Banks outdoor drama The Lost Colony is the nation's longest running outdoor drama. It plays every summer in June, July and August. The 2015 season of The Lost Colony runs May 29-August 22 nightly at 7:30PM except for Sunday nights at the Fort Raleigh National Historic Site on Roanoke Island. First staged in 1937, the play written by Paul Green, has entertained summer vacationers for 76 seasons. Based on the first attempt the English made to settle the New World the play commemorates the 117 men, women and children who sailed in 1587 from Plymouth, England. They crossed the Atlantic Ocean in a small ship looking for "The New World". After settling in the Outer Banks area, with food and supplies running low, John White, the governor and father of female colonist Eleanor Dare, returned to England for more supplies. Unable to return to the island for three years due to the war between England and Spain, he finally returns to the area in 1590 but there was no one at the fort. Only the letters "CRO" and "CROATAN" were carved into two trees-possibly meaning the colonists had left to join up with the local Croatan Indian tribe.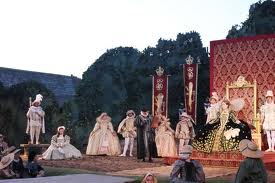 With colorful characters such as Queen Elizabeth, Sir Walter Raleigh, Eleanor Dare and her daughter Virginia Dare, the first English born child, The Lost Colony is truly entertaining. The dancing, the singing, the sets, the costumes and the light-hearted story of Old Tom and Agonia plus the drama of the story all make for an educational and entertaining evening under the stars at the Waterfront Theatre.
The real story is still a mystery although new clues and recent research have led to what may have really happened to the "Lost Colony" in 1587. The colonist disappeared from Roanoke Island after attempting to establish the first English colony in America. A map made by Ralph Lane had two patches and under one patch is the symbol for a fort possibly marking where the settlers went. The symbol on the map is situated in present day Bertie County, North Carolina. Then there is another theory that the colonist and at least some of the colonist traveled to what is now Hatteras Island and married and mingled into the Croatan Indian Tribe on the island. But the outdoor drama that plays out each summer at the Waterside Theatre on Roanoke Island is still moving and thought-provoking entertainment.
The Lost Colony Outdoor Drama 2015 Season