Three ACC Teams Advance to the NCAA Sweet 16
Three North Carolina  basketball teams in the ACC win and make it to the NCAA Sweet 16 in the playoffs. UNC, NC State and Duke all won and head to the Sweet 16 next week. NCSU beat Villanova yesterday 71 to 68 to advance in the East bracket. UNC beat Arkansas yesterday 87 to 78 in the Midwest bracket. Duke beat Sand Diego State today 68 to 49 in the South bracket. This is the first time in 10 years all three teams will be playing in the Sweet 16.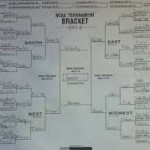 The March Madness will continue Thursday March 26, 2015. The games for the Sweet 16 start Thursday March 26-29, 2015. There were a lot of upsets this weekend. Next week should be just as exciting for all those North Carolina college basketball fans.
NCAA March Madness Top 10 Facts You Don't Know (youtube video)…
Three ACC Teams Make the NCAA Sweet 16