The US Figure Skating Championships 2015 will be held in January at the Greensboro Coliseum Complex. The events will be January 17-25, 2015. The nine-day events includes men's, women's, dance and pairs ice skating championship competition. Several different types of tickets are on-sale now at Ticketmaster or the Greensboro Coliseum Box Office.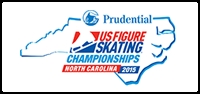 Tickets include All-Event, Weekend Packages, and Single Session tickets. There will also be again a FanFest this year. FanFest has skating demonstrations, competitor and alumni autograph sessions, and other skating-themed activities to enjoy.
Here is a link to a detailed schedule of the  2015 Prudential U.S. Figure Skating Championships. This will be a popular event so make plans now. If you love the grace and elegance of ice skating and ice dancing you will love this event. Go for the day, spend the weekend or stay for the entire event. Participants at this championship may be at the next Winter Olympics of 2018 in PyeongChang.
See the prediction of winners…
US Figure Skating Championships 2015 in Greensboro