Was Bigfoot In Henderson County NC?
A recent video taken by a man vacationing in Henderson County, North Carolina may show Bigfoot walking/running in a field trying to get away from the man's dog! Rumors and sightings of Bigfoot (or Sasquatch) has been around for years. Late night fireside camping stories about the creature have scared many of children and adults too. But does this latest video really show Bigfoot running across a field heading for cover in the trees?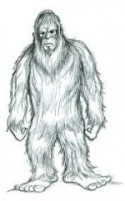 The man who recorded the video is from Boone, NC. He was on vacation in Henderson County and was apparently out walking his little dog when they spotted the upright all black figure across the road in a field making its way into a nearby grove of trees. The man's little dog Zippy started barking at the figure as it makes its way across the field. It's hard to tell looking at the video just what the figure might be-Bigfoot or a person dressed all in black playing a hoax. But the video sure has made the news bigtime!
Bigfoot is usually described as very tall and hairy with an animal like gait that walks in an upright position-that is on two feet. There have been numerous sightings, stories, pictures and myths of the creature. The Legend of Bigfoot is well-known in American culture. And who knows he may just really exist and be living in Henderson County, North Carolina, or just passing through!
Take a look and you decide if it is really Bigfoot…
Was Bigfoot In Henderson County NC?