Winter Storm Octavia and North Carolina
North Carolina needs to get ready for Winter Storm Octavia forecast for Feb. 17, 2015. It looks like this will be nothing but trouble for most of North Carolina. It may start as snow but it is forecast to change over to sleet and freezing rain as the storm makes its way north. Snow is us you need usually a good thing but the significant sleet and freezing rain that will probably occur with Winter Storm Octavia will cause major problems to our state.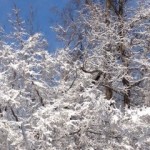 Be prepared for power outages and poor road conditions across the state. High winds have already caused problems at the coast. Now the rest of the state will more than likely experience any number of conditions. The mountains may get several inches of snow, the piedmont may get snow, then sleet then freezing rain. The area of I-95 and east may get some snow but then a thick coating of sleet and ice.
This storm has all the makings for a huge headache for North Carolina. Be prepared, watch the TV for news and changing weather conditions. I know we are good for heading to the grocery store to empty out the bread, milk and egg shelves, but this time it is looking like a legitimate reason to buy those groceries so we can stay home a few days and avoid those treacherous roads, not to mention those fools that always hit the roads and drive like idiots putting the rest of us in harms way.
Winter Storm Octavia and how it will affect North Carolina…
Winter Storm Octavia Bringing Snow and More To NC