The Wright Brothers National Memorial celebrated toady Dec. 17 the 110 year anniversary of the flight at Kill Devil Hills at the Outer Banks of NC.
The First Flight Society and the National Park Service honored the accomplishments of Wilbur and Orville Wright at the 110th anniversary celebration of the first heavier-than-air powered flight. Events included an aviation flyover, wreath-laying ceremony, and the induction of William Edward Boeing into the First Flight Society's Paul E. Garber First Flight Shrine.
Members of the Wright family will be present.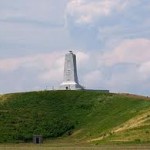 Wright Brothers Fly at Kill Devil Hills 110 Years Ago Today